As it was estimated by many analysts recently, bitcoin price jumped above the psychologically important level of USD 10,000 and even surpassed USD 11,000 for a couple of hours before crashing back into the USD 10,000 zone. Majority of altcoins are also in green today. (Updated on 15:03 UTC: the latest market data have been added.)
After dropping by more than 3% in the past hour (14:58 UTC), bitcoin trades at around USD 10,745 and is still up by more than 9% in the past 24 hours. It's also up by 23% in the past week and by 40% in the past month. Also, compared to June 22 of 2018, bitcoin is now up by 73%.
Last time bitcoin was above the USD 10,000 level is March 2018.
Bitcoin price today: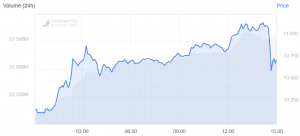 Source: coinpaprika.com